"Test for piece of mind,
mitigate when high."
Latest News:
January 5, 2015 January is National Radon Action Month. More specifically the Governor of the State of Colorado, John Hickenlooper, has made his own Proclamation that January is Radon Action Month for the State of Colorado. Click on this image to enlarge and read the entire Proclamation:
December 30, 2014 Mae Kaene dies at 107 years old. She was the last of the surviving group of radium dial girls that painted with radium on wrist watch dials to make them glow in the dark for the US Radium Corp in the early 1920's. She survived likely by quitting her job after a few days because she did not like the "taste of radium".

December 20, 2014

Here is a Christmas shopping idea. A gift of a radon test from parents to children is a perfect, economical and easy gift whether or not the home has been tested in the past. Such a gift for january 2015 shows you love them and care about the family's health. According to the Environmental Protection Agency, January is National Radon Protection Month.



December 14, 2014

A new course entitled "Advanced Techniques For Radon Mitigation Systems" is approved by the NRPP-AARST for continuing education credits (8 hours CEU) for radon mitigators. The course will be given by our president Dr. L. Moorman. For more course information, locations and dates or if you are interested to bring this course to your own State program write us by using the "contact us" button at top right and use as subject title: "ATRMS-course".
(State of Nebraska CE licensing approved)

December 12, 2014 If you are interested in historically important events on radon, watch the educational video by clicking on the link at the bottom of this column about the discovery of the element radon (Radon-222). In the last part of the video you can view its radioactivity in an "ionization chamber" with an explanation what you are looking at (Thoron=Radon-220).


December 9, 2014: Colorado is doing really well in the recovery. From Sept 2013 to 2014 the unemployment went down from 6.3% to 4.0%, and similarly in October. The region Fort Collins-Loveland, CO, shows values lower by more than a half percent. See link:
http://www.bls.gov/news.release/pdf/metro.pdf
The national data show that the unemployment rate is at 5.8% and now rivals 2004 before the crisis. The graph of the interesting time series can be seen at this link:
http://data.bls.gov/timeseries/LNS14000000

December 1:


STARTING POSITION IN RADON MITIGATION NOW AVAILABLE.
For more info and application form: CLICK HERE





Radon Home Measurement and Mitigation (RHMM) performs radon testing and radon mitigation of single and multi-family homes as well as radon testing and mitigation in commercial or business locations, and delivers radon education to interested groups and the public. RHMM also helps with radon issues emerging during real estate transactions, helping real estate brokers, buyers and sellers to understand and deal with what may be a serious environmental health issue in a home. Our goal is to identify those places that represent a high radon exposure to the general public in residential, commercial and business environment and, after verification of an increased health risk, to fix the problem.
Furthermore RHMM works with home owners, contractors and builders by pre-screening a building site before construction for its ability to show a radon risk concern after completion. If this radon risk analysis shows a predicted high concentration of radon, RHMM can install an effective pre-mitigation system in new home construction. RHMM, located in Fort Collins, can solve radon problems anywhere in Northern Colorado or Wyoming.
---

Last updated: january 5, 2015

April 11, 2014 The Colorado Department of Public Health and Environment (CDPHE) has given us the information that currently 22 municipalities in Colorado have a Radon Code. This has been steadily growing since Aspen in 2003 and Fort Collins in 2005 started this trend.



March 31, 2014

New data (CDPHE) have revealed that twelve Colorado Counties previously considered to be at moderate risk for radon exposure have been upgraded to the high-risk category. This means all 64 Colorado counties are now categorized as Zone I, which is the category with highest average radon following the EPA classification. When a house is at or above 4.0 pCi/L, the USEPA recommends mitigation.

March 17, 2014
Spring is here: this is a good time to do a radon test.
Although you need to know that a proper short term (>=2 days) test is conducted with outside doors and windows closed, except you can live there and may open doors to go in and out of the home, of course.



October 20-26, 2013


Federal Radon Awareness Week is here according to The Surgeon General. Health agencies throughout the United States have joined forces to promote awareness of the leading cause of lung cancer for non-smokers.

The American Lung Association Centers for disease Control, and National Cancer Institute all agree the radon is a national health problem and encourage radon testing during the October awareness drive.

August 17: Look at this graph about unemployment statistics since 2003. We are certainly going steadily into the right direction again since 2010:
Click here to see unemployment statistics graph.

August 4: U.S. employers added 162,000 jobs in July, the fewest since March. The gains were enough to lower the unemployment rate to a 4½ -year low of 7.4 percent, a good sign in an otherwise lackluster report. Source: The Times, New Orleans

July 5:

Employers added 195,000 jobs in June. The unemployment rate was unchanged at 7.6%, the Labor Department said Friday. Also encouraging: job gains for April and May were revised up by a total 70,000. April's increase was revised to 199,000 from 149,000, and May to 195,000 from 175,000.



June 8, 2013: The bi-annual certificates from the NRPP-AARST as a proof of recertification arrived in our office today after we had forewarded to them proof of (1) Continuous Education, (2) instruments calibration and (3) performance testing. Certification for radon mitigation, radon measurement and as a radon laboratory, to provide radon test devices to the public, is approved until May 31, 2015. We have been certified for radon services continuously since 1999 and have since installed more than 1500 high quality mitigation systems as well as completed more than 3400 radon tests.

Mitigation:

Measurement: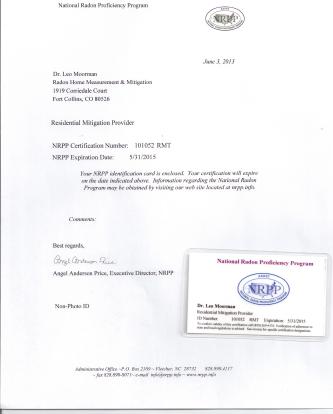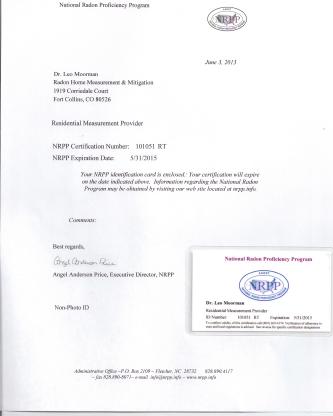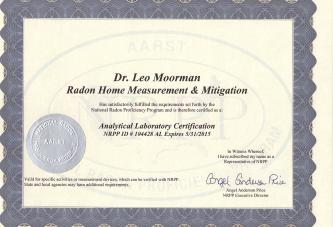 June 2, 2013, More good news: After more than two thousand years a "weak version" of the ancient mathematical riddle in number theory, Euclid's "twin prime conjecture", is said to have been proven. Yithang Zhang, also known as "Tom" around the campus of University of New Hampshire has his paper accepted in a prestigeous mathematical journal., and has gotten instant rock star status under mathematicians. The conjecture states "

There are an infinite number of primes that are only 2 units apart

", such as the numerical pairs (3,5), (5,7), (11,13), (17,19), etc. He is said to have proven it in his manuscript not for "

2 units apart

", but instead for "

70 million units apart

". Most importantly he said he contributes his success to "never giving up on a problem" and said he "got the idea while visiting a friend in Colorado on vacation".
(Source: New Hampshire Union Leader, Sun, Jun 02).

More good economic news:
May 16, 2013: Larimer and Weld County's (CO) foreclosure rates in first quarter 2013 dropped by 40.5 and 27.5%, respectively, compared to first quarter 2012. Colorado statewide foreclosure rates dropped by 41.3% and foreclosure sales dropped 30.5%. (Source: Northern Colorado Business Report)

May 4: This morning the news is that the Jobless rate fell to 7.5%, a 4-year low,(theitem.com). Over the past year the number of long -term unemployed has declined by 687,000. This is good news!

March 19 & 20 is National Radon Action day by the organizations AARST, NRPP, and CanSar. This is an event focussed on the need to bringing more attention to effective radon policy.

February 28, 2013: Fort Collins Chamber of Commerce holds Red Carpet event for Radon Home Measurement and Mitigation, Inc. Dr. Moorman, President and Founder of R.H.M.M. gave an inspiring power point presentation before the Ambassadors of the Chamber, explaining what Radon is and how his company has saved now more than 28 lives since it began installing mitigation systems in homes.

February 4, 2013: HUD releases requirement for multifamily homes to test for radon following the AARST/ANSI Multi-family Home Standards, and if high, mitigate these buildings when an FHA loan is written. About 100,000 mortgages are involved every year.

(January 1, 2005): Passive Radon Mitigation Systems are now REQUIRED by current Building Code in Fort Collins (first in Colorado) for New Home Construction of one- and two-family dwellings. which was extended in 2008 to all multifamily dwellings.

BAD ODOR OR MUSTY SMELL SOMEWHERE IN YOUR HOME: go to our MOLD page for more information.

CHEAP vs. QUALITY. If you wonder whether all systems are accomplishing the same goals and what the difference is between a cheap and quality radon mitigation system. Read more ...

RADON IN YOUR WELL WATER: If you live in the mountains and have measured a high radon level in your indoor air, you may also want to consider testing the radon level of the water from your Well. More ...

15 MUNICIPALITIES (9 CITIES and 6 COUNTIES) in the State of Colorado have requirements for installing passive systems in new homes currently. Check if your municipality has this requirement on the following page (October 2011) More ...

For the following videos, click on it, or cut and paste the following strings in the pointer of your browser:

(1) VIDEO CLIP ON LUNG CANCER AND RADON from a doctor in medicine in lung cancer:


http://www.videojug.com/interview/lung-cancer-2



(2) Two youtube VIDEO CLIPS on our company:

http://www.youtube.com/watch?v=XpRoKxhGugQ

http://www.youtube.com/watch?v=ulfosEJ8GL0

(3)

Educational: On the history of radon discovery.


A wonderful TED talk about the discovery of radon and the two famous scientists who competed over a century ago for the honor of its discovery. Rutherford vs. Ramsay. How did they discover it? By looking at the "radioactive spectrum" and identifying it as different from other known radioactive spectra, such as that from helium.
In this Ted talk the original radioactive spectrum recorded by Rutherford is shown identifying the radioactive spectrum of the then entirely new element, called Radium Emanation (Rutherford) or Niton (by Ramsay), which later became "Radon".

http://periodicvideos.com/videos/086.htm